Welcome to Scotstown Medical Group
During the current COVID-19 pandemic we have been working hard to ensure we keep our patients and staff safe while continuing to deliver services.
As we start to plan for what we can offer our patients as we emerge from this difficult period, continuing to reduce the need for patients to attend the Practice will be an important step. We have therefore been designing changes in our procedures to allow us to offer healthcare remotely where possible, including online and video-based services.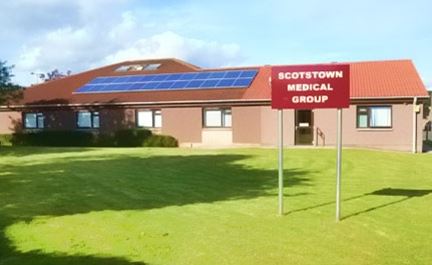 The Practice
Our well-established Practice serves more than 12,000 patients, mostly in the Bridge of Don area but also extending northwards into rural communities.
Our fully equipped branch surgery at Udny Station helps cover Potterton, Balmedie, Udny Green and the more rural parts of our practice boundary extending outwith the city. The branch surgery has a dispensary, which is of great convenience to our rural patients, but please note the changes to our dispensing area following the review by Grampian Health Board means that we can now dispense to a much more limited number of our patients. See our News page for more information.
Access
Bridge of Don
There is a car park in front of the surgery premises. Good wheelchair and disabled access can be obtained at the front of the building, through automatic doors. There is now a buzzer entry system. Once you are through the first automatic door, please look to your right for an 'apartment style' silver buzzer marked 'Reception'. Please wait for a receptionist to answer and let you in. Please do not try to force open the door as this will cause damage to the entry system. A hearing loop is available. If you do not speak English, translator services can be arranged — details from reception.
Udny Station
There is a parking facility at the front of the building – a hearing loop is available.